Popular Conditions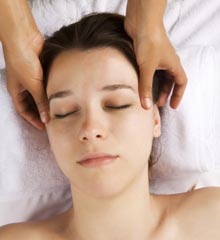 Headaches / Migraines
There is no single cause for a headache. Two common types exist: Tension Headache and Migraine Headache. The main difference is a tension headache usually involves only muscles; whilst the migraine headache involves muscles with blood vessels (and so creates a wider range of symptoms).
Tension Headaches
*muscle spasm or tension at the base of the skull or neck
*over the forehead (both sides or one side)
*pain over the temples
*dull ache in the eye
*blocked ear feeling
*feeling of nausea or sickness
*difficulty turning the neck
*headaches that can arise when you are away from stress (ie *weekend or on holidays – Cluster Headaches)
*feeling offatigue or tiredness.
Migraine Headaches
*any of the above, plus any of the following
*throbbing pain anywhere in the head
*sensitivity to bright lights or noise
*vomiting
*visual disturbances – presence of flashing lights, colour patterns, *black spots, floating spots in field of vision etc
*pain that is made worse by movement ie walking feel the need to lie still in a dark room
*generally a more severe form of headache than a tension headache.